Fits 1980-1991 Chevy/GMC C/R Pickup Suburban Power Steering Conversion Gear Box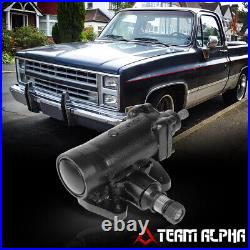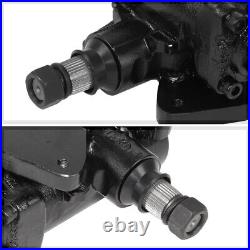 The steering system of a vehicle is not only crucial for safety reasons but also to improve the comfort of your driving. Loose steering components will make your iron friend difficult to handle and will cause the front tires to wear out quickly. To improve your steering system efficiency, the power steering conversion gear boxes have been factory-tested to ensure quality and reliability. The power steering boxes retain the factory pitman arm and provide superior directional control and road feedback, as well as a more stable feel to the driver. Their open-center, rotary-type valve provides smooth operation throughout the steering range. The integrated mounting cast-in bosses eliminate the need for external brackets and shims. The power steering boxes will provide your vehicle with the performance steering that you have been searching for. Factory replacement for stock unit, Direct bolt-on. Each component is carefully OE tolerance checked.
Paint to help protect unit in harsh road conditions. Each unit is tested to ensure OE Level Performance. Fits 2wd & 4wd Models. Installation instruction is not included.
We have the right to refuse an order based on the result of a risk assessment. Tracking numbers will be easily accessible as soon as they are created and processed. All pictures and images are for illustrative purposes only.
They may not be exactly the same as the actual item such as content, color etc. We try our best to accurately describe the item listed. However, slight errors may occur. The person that is purchasing this product makes the following representations and acknowledges and agrees to the following terms and conditions.
This off-road race only product ("this Product") is designed and intended for use in organized, amateur and professional racing events, but is limited to closed-course racing and open-course racing that is formally sanctioned by a recognized racing organization involving the motor vehicle in which it is installed (the "Vehicle"). It is not for use on public highways or roads nor is it for recreational off-road use other than solely for competition purposes.
Use of this Product for purposes other than solely for competition is a violation of federal law and may violate applicable state or local environmental, motor vehicle and other laws. The User warrants that this Product shall only be used in sanctioned closed-circuit events. That use of this Product may make the Vehicle unfit or unsafe for the purposes intended or for any purpose and cause personal injury, property damage or death.
That the installation of this Product, improper installation of this Product, use of this Product with other components or failure to use this Product in conjunction with other components, could result in or cause personal injury, property damage or death. THIS PRODUCT IS FOR COMPETITION RACETRACK USE ONLY. ALL OTHER USES ARE CONTRARY TO FEDERAL LAW.
Get all the Latest News, Updates and Special Offers about Our Store.